Back To Our Services
The average useful life of a garage door is around 10 to 30 years. Garage door springs, on the other hand, tend to have a slightly shorter life span. Many torsion springs are observed to last for a minimum of 10,000 to 15,000 cycles (one cycle = the sequence of door opening and closing). In general, this minimum translates to a useful life of at least three to seven years. Most door springs from various manufacturers are expected to last for an average of 30,000 cycles or a useful life of around 6 to 15 years.
Of course, useful life is not going to be fixed.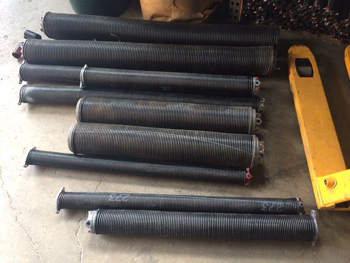 There are many factors that affect it. For one, a heavier door reduces the expected useful life of the door springs. Usually, the additional weight of the door comes from the use of glass or heavier door panels, the addition of insulation materials, and even the repeated coats of paint. Additionally, useful life decreases in the absence of proper door maintenance. Loose garage door tracks, misaligned doors, or faulty balance will have a negative impact on the springs' life span.
Convenient maintenance
If you don't know how to ensure that your door springs are always at their peakcondition, call Garage Door Repair Rosenberg for friendly and reliable assistance. We provide superb garage door repair and maintenance solutions so you don't have to worry about the condition of your door. We understand how unexpected inconveniences frustrate you when least expected. That's our earnest team performs dependable door maintenance and inspection services.
Before the time arrives that you will require serious garage door repair, make it a point that you have done your part in preventing minor defects from aggravating. We are always eager to offer our expertise, guidance, and experience to help you avoid complications with your door as well as your door opener. Our world class door installation, repair, and replacement technicians at "Garage Door Repair Rosenberg" are skilled, proficient, and courteous. Don't forget to call us if you have door spring and other related problems.
Back To Our Services